Years I've Been Running: 7 years (since 2011)
Number of Marathons: 5+ and multiple half marathons
The Best Thing About LARC: Collaborating for the good of the running community, to have fun and improve
Favorite LARC Event: Track nights
My Goals and Quote: "I'm most proud of the fact that I'm able to give back to the community of the runners. When I'm out volunteering or I'm out racing with other runners, I realize what a great big family we are."
Accomplishments: USATF and RRCA Level 2 Coach; President, LA LEGGERS; Head Mentor, LA LEGGERS; LA Marathon Support Chairman; Treasurer, South Bay Runners Club; and proud father. Barry is most notably known for wearing his purple "Cancer Fighting Kilt" that he wears to raise awareness and bring attention to Project Purple, fighting pancreatic cancer in honor of his late father-in-law, Bill Lyons.
"Just come up and say Hi! I'm the one in the purple kilt!"
---
Francisco Davis - Board Member / Web & Technology Manager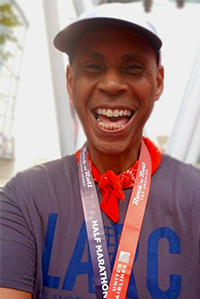 LARC Member Since: 2018
Board Member Since: 2019
Years I've Been Walking/Running: Most of my life but did not seriously begin to train for Marathon races until 2009.
Number of Marathons: I've completed 2 L.A. Marathons and 7 Half Marathons.
The Best Thing About LARC: The sense of community it provides for athletes to gather, meet, and exchange tips and learn different techniques to improve their performance. It's a place where all running and walking athletes are welcomed to participate from the novice to the expert with no judgment about the level of one's skill for run or walk. It's also a great place to make friends, network, and become inspired to rise above to new heights in ambition.
Favorite LARC Event: The Post Marathon Medal Run. It's truly something to see and participate in. Especially for the new athletes that make the journey from the couch to a Marathon. The sense of pride and accomplishment exhibited by these athletes is a wondrous experience. To see the absolute joy on their faces as they take pictures with the newfound friends that they bonded with over the LA Marathon training season. No doubt it's a special time for all and I have the privilege to relive that same feeling they have! It's awesome!! I enjoy hearing some great stories, too. Surely every person's reason for doing these races are interesting and unique in every way and it so much fun to be a part of it all. I also get to see them as they grow on their journey to greatness.
My Goals for The Club: Is to bring the group forward to a higher level of excellence and help broaden the communication among its membership by keeping them up to date on the website with new and accurate information.
Favorite Running Quote: "It was being a runner that mattered, not how fast or how far I could run. The joy was in the act of running and in the journey, not in the destination." John Bingham
Fun Fact: I love photography, collecting music, and graphic design……Oh yeah, let's not forget running/walking!
---
Greta Ito – Board Member/ Membership Chair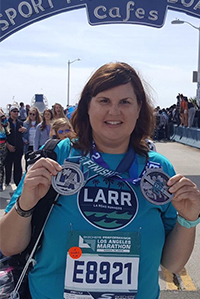 LARC Member Since: 2018
Board Member Since: 2019
Years I've Been Running/Walking: Two years that I have been walking and running in a committed way. Before that, I had done some 5Ks here and there but found it a chore to stick with training on my own.
Number of Marathons: 3
Best Thing About LARC: Feeling like I have a place to be on Saturday mornings! It motivates me to get up and get training when I know that there will be a group of friendly people waiting at the Totem Pole. I can push myself to try a more challenging course, go more miles, or improve my pace if I'm joining others. And, as a newer walker/runner, I have gained a lot of valuable tips, training suggestions, and race recommendations from chatting with other members during the group runs.
Favorite LARC Event: The Medal Run following the LA Marathon. It's great to see everyone celebrating each other's successes.
My Goals for the Club: To help grow the club membership and foster more connections among members. I also look forward to supporting the club in continuing to be a welcoming place for athletes of all levels.
Favorite Running Quote: "If you have the courage to fail, then you have the courage to succeed." – Shalane Flanagan
Fun Fact: I once served as "Postmaster for the Day" while working in a small town in southern Japan.
---
Rose McKay - Coach/Trainer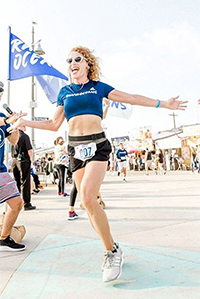 LARC Member Since:
Official member since September 2019, been training / running with the club for three years. (I just counted the potlucks we had together on the track! LOL!)

Years I've Been Running:
My whole life. I was in ballet, gymnastics, basketball, volleyball, handball and martial arts when I was younger, then water polo was the love of my life sport, which I played all through high school and college, that gave me the background for the triathlons that I do today.

Number of Marathons:
26.2 x 11, 13.1 x 19, IM 70.3 x1 (my second one is tomorrow, so this will be x2 ), ULTRA X2,
BQ X2, Olympic & Sprint Triathlons x 5

The Best Thing About LARC:
The People. The leadership, the coaches, the athletes. It is an incredibly positive and caring atmosphere that motivates us to strive to become the better, faster, healthier, stronger, kinder and more compassionate versions of ourselves.

Favorite LARC Event:
The traditional, annual potluck around the LA Marathon time... (Runners love food)

My Goals For the Club:
Being recognized globally, as one of the most wholesome, supportive, knowledgeable, dedicated, driven, passionate sports clubs in the world, with smiling faces and strong bodies, in a loving community with inspiring leaders.

Favorite Running Quote:
"Pain is temporary, glory is forever..."

Accomplishments:
Nike Training Club Championship, two time Boston qualifier, triathlete, ultra distance athlete with over 100K under the belt, and training for 100 milers.

Fun Facts:
Executive MBA student at Pepperdine
Fashion designer (as a hobby for now)
Worked full time as a fitness trainer/ instructor at the Jacksonville Naval Air Station, training the folks in the military and their families.
---
Alan Culver - Adviser to the Board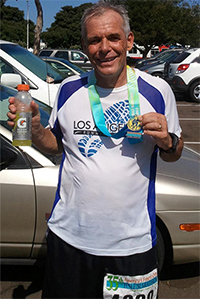 LARC Member Since: 2002 – Charter Member
Board Member Since: 2005
Years I've Been Running: 28 years
Number of Marathons: 41 including two Boston Marathons and 26 + half marathons + 8 10K and 20 5K
The Best Thing About LARC: Making new friends
Favorite LARC Event: Sunday morning runs at the Totem Pole
My Goals for the Club: To keep runners involved within the running community and to continue to reach new members
Favorite Running Quote: "20 miles is a long way to run...26.2 is a life-changing experience"
Accomplishments: President of LARC, July 2007 - June 2011; Senior Pace Leader with LA Road Runners (LARR)
---
Zenen Hernandez - Coach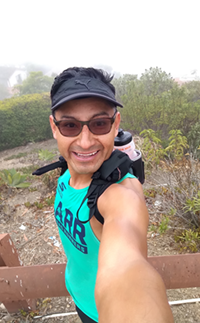 LARC Member Since: Since 2018
Board Member Since: Recently
Number of Marathons: I've been officially running since 2007. Before then I was a soccer player and a recreational runner.
Years I've Been Running: Running LA Marathon since 2007 every year.
Number of Marathons: Over 40 in total and also several half's,10ks and 5ks.
The Best Thing About LARC: The amazing environment of the running comunty. Always great and making new friends. Very supportive. I love our Saturdays morning runs by the beach. Wednesday nights of track workout. Also been able to run by some trails of Santa Monica.
My Goals for the Club: To help other athletes of all levels achieve their goals.
Favorite Running Quote: We can do it. Si se puede y ánimo.
Accomplishments:
Boston Qualifier. Current Pace Leader for Los Angeles Road Runners. LARR.
Certified in the following: RRCA level 1 endurance Coach. USATF level 1 Track and field Coach. First Aid. CPR/AED.